The first Little People dogs were introduced in 1960, one with the #234 Nifty Station Wagon and the other with the #168 Snorky Fire Engine. These dogs have a body that tapers from a small neck to a larger base, and the dog has a pointed face. The next Little People dogs were introduced 1963 with the #932 Amusement Park and the #719 Choo-Choo. These dogs are similar to the first, except they have straight-sided bodies. In 1965, two new dogs with flat faces were introduced, the bell-shaped dog for the #136 Lacing Shoe and a tan regular-base dog for the #192 School Bus. The tan dog was not only the first dog with a regular base, but also the first to wear a collar. 1967 introduced the first straight-sided dog with a collar in the #192 School Bus.

From 1967 until 1973, the dogs used in Little People sets could have either a regular-base body or a straight-sided body. From 1974 on, all of the dogs in the Dealer Catalogues, except the bell-shaped dog used in the Lacing Shoe, have a regular base.

As with all Little People figures, the oldest dogs are made of all-wood. They have a metal rivet through the top of the head to keep the ears attached, and they have a slightly different collar than the newer ones.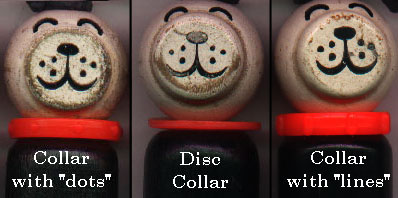 There are actually 3 different types of dog collars:
The first and oldest collar has small dots around the outside edge. 1965's tan dog wore this type of collar, and it appears in the Dealer Catalogues until 1973.
The second type is a disc collar. Although this collar has reportably been seen in other sealed sets, it was only in one Dealer's Catalogue, 1971 with the #705 Snowmobile.
The third and final collar is similar to the first type, except it has vertical "ribs" or lines all around the outside edge as opposed to dots. This collar was used from 1974 until the end of Original Little People production in 1990.
The following list of dogs is sorted alphabetically by body color, then alphabetically by collar color, then by collar type (dots, disc, then lines). Dogs with no collar are listed first. Be sure to click on the "More dogs ->>> " link to see the last half of the list: