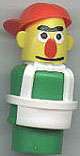 Welcome to the world of the obscure! Featured in this section are the rare, the weird, and the uncommon. These are the "whoops" figures (which includes prototype, pre-production figures) and custom-made figures.
As happens in almost any high-volume, mass-production operation, mistakes can and do occur. The result is what is commonly referred to as a "whoops" figure.....one that has "standard" parts but put together in very decidedly non-standard ways. Examples might be a figure with it's facial features upside down, double stamped facial features, or a figure with a girl's body and a boy's face. Because of the huge number of possible "whoops" characters, there are obviously no part numbers or application information available for such items......many of them are literally "one-of-a-kind" (i.e. the same mistake was not ever made again!).
Still, many collectors are confused as to the difference between a "whoops" figure and a "variation" figure. The difference is simple: whereas a "variation" figure is one that is made in accordance with common characteristics, and may have been substituted with a regular standard figure in a playset (for example, a dog with a grey body opposed to black, a blonde mom with a queen's body, etc.), a "whoops" figure does not match the generally accepted appearance or component assortment as described above. Whoops figures are rare! Variations can be rare, but they were made in enough quantities and always have the correct combination of components (no girl's collars on farmer bodies, etc.).
Pre-production or "prototype" figures also exist, but obviously in very limited quantities. Before the actual production run of a figure was made, engineering or production "samples" are run to test a mold for consistency, to adjust the machine before full-scale production, etc. Most of these items are "correct" in appearance and component assortment, but are normally cast in a non-standard color....such as a clear-bodied Snuffle-upagus, a yellow cookie monster or a green deep-sea diver. Although not technically considered a "whoops" figure....after all, it wasn't a mistake, it was an intentionally-made piece......for all practical purposes they can be considered in the same category as a whoops figure. These prototype or pre-production figures are also extremely rare, and thus valuable.
And although not factory-made, a number of imaginative people have taken it upon themselves to produce "custom" figures....the ones that we all wish that Fisher-Price HAD made, but never got around to! These would include people fashioned to look like a Santa Claus figure, a Superman, or a Star Wars figure. Obviously hand-made, they add a unique and wonderful charm to the hobby of Little People collecting!
Finally, it is possible for enterprising people to create a "whoops" figure from a standard character figure. The process almost always involves taking apart a figure so that the non-standard combinations of components can be added or deleted, and since it is fairly difficult to reassemble a figure properly (joining the head/hair to the body is the tricky part...click here for instructions!), it is wise to pay attention to the head-to-body joint whenever buying what is advertised as a "whoops" person. Although outright intentional forgery is uncommon, with the prices of true "whoops" figures increasing rapidly, it always pays to be aware!
Anyway, to learn and see some really interesting figures, please visit all of the following sections:
* Whoops and Prototypes & Oddities
* Custom-made figures
You may link to any of the other Original Little People ID lists by clicking on your selection below: