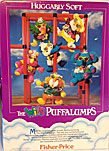 Larger Photo


Larger Photo
Description: This is an assortment of six different wild Puffalump animals that were sold to retail stores for resale. Each Puffalump is a brightly colored lightweight soft stuffed wild animal that is about 15" tall. Each comes with a pair of yellow "blinky" sunglasses (click here for Photo) and a short sleeve Hawaiian shirt. The Puffalumps and their shirts are machine washable and dryer safe.

The Wild Puffalumps are the 2nd group of Puffalumps ever made by Fisher-Price, the first were 1986's #8000 Puffalumps Assortment with pastel-colored animals. While the Puffalumps from the #8000 Assortment were sold until 1988, the Wild Puffalumps were only sold in 1987. The Wild Puffalumps themselves are not terribly hard to find, but it is difficult to find the Hawaiian shirts, and even more difficult to find the sunglasses! Designed for children ages 2 years and older.
Accessories:
Variations: None.
Other Information:
Also see #8051 Wild Puffalump "Tiger".
Each Puffalump was sold in a 11" long, 14-3/4" high, 8-3/8" deep open display box. The box has a purple backdrop marked, "Squeeze Me" in the top left corner. Also marked, "8050 Asst." in upper left corner. Bottom front of box features clouds, a hotair balloon, and marked, "The Wild Puffalumps".
Please, if you have any information or details about this toy that isn't mentioned above then e-mail us. Thanks!