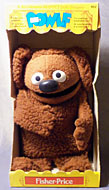 Larger Photo


Larger Photo
Description: In 1977 Fisher-Price introduced 3 new dolls from the the then new "Muppet Show". The 3 dolls were #850 Kermit the Frog, #851 Fozzie Bear and #852 Rowlf. Rowlf is the only one of the first three who had a movable mouth for make-believe talking or singing.
Accessories:
FPT3322 - Rowlf doll made of dark brown fuzzy material (plush), and is hollow inside. He has Velcro® brand fasteners on his back to keeps his back opening closed. He has long floppy arms and short stubby feet.
Variations: None.
Other Information:
FP852BOX1977 - (Box Only) - Rowlf was sold in a 18" high x 9" wide x 5-1/2" deep open front display box.
FP852SET1977 - (Complete Set) - Complete set in original display box. WFL: 07-AH-41-2-C
Please, if you have any information or details about this toy that isn't mentioned above then e-mail us. Thanks!