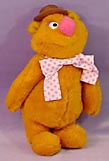 Larger Photo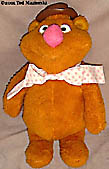 Larger Photo
Description: Wacka-wacka-wacka....it's Fozzie Bear from the Muppet Show! Poor Fozzie has a hard time telling a good joke, but he does not have a hard time finding a place in your heard. This plush Fozzie Bear doll has a chubby stuffed body, attached hat and tie, and a big pink nose, just like the real Fozzie Bear character. He was introduced in 1977 as "Kermit's side-kick on the TV show".
Accessories:
FPT3321 - Tall stuffed Fozzie Bear Muppet doll made of light brown fuzzy material with long arms and short stubby legs and feet. He has a huge pink nose, big eyes with pink eyelids, and a wide silly grin. He wears a permanently attached brown plastic hat and a white fabric tie with pink polka-dots. Measures 13-1/2" high, 9" wide, and 6" deep.
Variations: None.
Other Information:
Fozzie was sold in a 13-1/2" high x 9" wide x 6" deep open front display box.
Fozzie Bear was one of three new Muppet dolls introduced by Fisher-Price in 1977. The other two were:
Please, if you have any information or details about this toy that isn't mentioned above then e-mail us. Thanks!