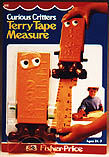 Larger Photo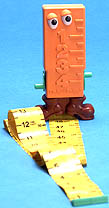 Larger Photo
Description: Terry Tape Measure is a fun toy that helps to teach children how to read a tape measure. The 4 foot long tape retracts with a simple crank handle.
Accessories:
FPT22307 - Terry Tape Measure - Orange plastic tape measure with a green vinyl 4 foot tape measure that can be wound in or out via green cranks. Terry has brown boots and has eyeballs for extra personality. Measures 7-3/4" tall x 4" wide x 1-1/4" deep.
Variations: None.
Other Information:
Please, if you have any information or details about this toy that isn't mentioned above then e-mail us. Thanks!