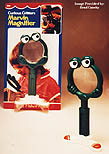 Larger Photo
Description: Designed to make science and exploration fun for children, Marvin Magnifier adds 'personality' to a typical magnifying glass.
Accessories:
FPT44939 - Marvin Magnifier - Green magnifying glass with white eyes on the top, molded hands on the sides, and red and white shoes on the end of the handle.
Variations: None.
Other Information:
Please, if you have any information or details about this toy that isn't mentioned above then e-mail us. Thanks!