Larger Photo


FPT4721


FPT4746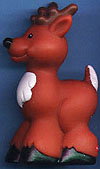 FPT4644
Description: Here comes Santa Claus, here comes Santa Claus, riding on his train! This set features a three-piece train, Santa Clause, Mrs. Clause, and a reindeer Little People figures, and a feed tray for the reindeer. Each train car has special features to delight children. The engine plays "Jingle Bells" as it chugs along. The cage car has a fold-down door, and an area to put the reindeer and his food tray. The food tray bounces when the train rolls. Mrs. Clause turned the caboose into her kitchen. She has a lovely stove and oven with a fold-down oven door that reveals three fresh-baked gingerbread cookies inside. Requires 2 "LR44" button cell batteries. Designed for children ages 1-1/2 years and older.
Accessories:
Train:

FPT13877 - Engine - Green engine with a red base, white smoke stack, white front grill and cow catcher, and a white seat for Santa. The engine plays "Jingle Bells" when child pushes down on Santa's seat.
FPT13878 - Cage car - Red body with a green base, no roof, a fold-down white ramp door, and an area to place the accessory food tray.
FPT13879 - Caboose - Red caboose with a green base and a small white roof above the oven. The oven has a fold-down door that reveals 3 freshly baked gingerbread cookies inside.

FPT13890 - Yellow feed tray with blue rippled "water" on one side, and light brown "hay" on the other side. This feed tray fits in the cage car.
Little People figures:

FPT4721 - Santa Claus - White moustache and beard, wears a red hat with white trim, a red Santa suit with white trim and a yellow button on the front, and black boots. He carries a brown bag of goodies!
FPT4746 - Mrs. Claus - Wears red glasses, a red dress with a white apron and a green scarf. She has white hair in a bun with holly as decoration, and she carries a blue plate with a freshly baked gingerbreadman cookie for you!
FPT4644 - Reindeer - Light brown reindeer with dark brown antlers, a black nose, eyes, and hooves, and a white chest and tail.
Variations: None.
Please, if you have any information or details about this toy that isn't mentioned above then e-mail us. Thanks!