Larger Photo


FPT4748



FPT4726



FPT4685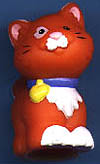 FPT4603
Description:
The very first Little People town was introduced in 1973 as the
#997 Play Family Village
. It was discontinued in 1977, but remains to be the best Little People town that Fisher-Price has ever made. In 1986 Fisher-Price introduced the 2nd little people town as the
#2500 Play Family Main Street
. The #2500 was quite a disapointment in comparison to the #997, yet it remained in production until the end of the Original Little People line in 1990. A mainstreet set was never made for the Chunky Little People line, and didn't appear in the Current Little People line until 1998 as the #72355 Main Street.
This set has town 3 sections that connect together and can be stacked or set up different ways. The biggest of the 3 sections is a two-story white building with a firestation, small park with a detachable swing, a pet shop, barber shop, and roof that either of the other two building can fit on. The second section is a blue diner with patio roof, and the third section is a car wash with a ramp and gas pump. The set includes lots of accessories, including an umbrella table, food tray, signs, vehicles, a mail truck and letters, and Current Little People figures. Designed for children ages 1-1/2 years and older.
Accessories:
3 main street buildings:

FPT13491 - Large white 2-story building with a red firestation door on the front that really opens, a red mailbox flat that opens, a green tree piece that holds an accessory swing, and a green elevator that lifts the accessory Little People to the 2nd floor. The 2nd floor has a barber shop on one side and a pet shop on the other side that has a revolving pet stand. The roof is large enough to hold either of the other two building, making a larger structure.
FPT13492 - Blue diner with a red roof and red door that really opens. A stairway leads to the patio on the roof. The roof has a built-in chair and a tiled floor.
FPT13493 - Blue carwash with a red roof that doubles as a service station. When the car is repaired, it can roll down the ramp on the side. A yellow guard gate prevents the car from rolling before its ready. The carwash has a tunel for the car to drive through and yellow cloth "cleaners" that hang down to wash them. The cleaners can be moved back and forth manually. A gaspump with a red hose and nozzle are attached to the front of the building.

FPT13494 - Yellow swing that attaches to the park area of the 2-story building.
FPT13495 - Red flat that fits in any of the holes on the corners of the buildings.
FPT13496 - Yellow 1-seat helicoper with white propellers that really spin.
FPT13497 - Red 1-seat fire truck with a 3-step ladder on the back.
FPT13498 - Blue 1-seat car/mailtruck with an area behind the driver for the accessory mailpieces.
2 white pieces of mail:

FPT13499 - Piece of mail with an imprint of an address, stamp, and return address area, and the other side has a heart imprint to seal the letter.
FPT13500 - Piece of mail with imprints that appear as though the mil has been wrapped in cord.

FPT13501 - Yellow diner street sign with a picture of a hamburger, coke and fries on one side, and a menu on the other side.
FPT13502 - Yellow street sign with a traffic light litho on both sides. The green light is highlighted on one side and the red light is highlighted on the other side.
2 yellow rectangular food trays:

FPT13503 - Tray with a litho of a sandwich, cookies, apple, and strawberry shake.
FPT13504 - Tray litho is pink with a picture of a bananna, apple, orange, and muffins.

FPT13505 - White round table with a hole in the center for the accessory umbrella to fit on top. The table has 4 short round legs.
FPT13506 - Yellow umbrella with a white angled pole (appears to be leaning when placed on the table mentioned above).
Round white chair with a backrest.
4 Little People figures:
Variations: None.
Other Information:
FP72355BOX1998 (Box ONLY) - Sold in a 20-1/2" long, 16-1/8" high, 7-1/4" deep closed box.
FP72355SET1998 - Complete set in original Box. WFL: BW
Please, if you have any information or details about this toy that isn't mentioned above then e-mail us. Thanks!