Fisher Price
Featured Toys
---
This Old Toy Fisher Price This Old Toy Fisher Price This Old Toy Fisher Price This Old Toy Fisher Price This Old Toy



This Old Toy Fisher Price This Old Toy Fisher Price This Old Toy Fisher Price This Old Toy Fisher Price This Old Toy

---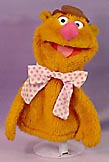 Fisher-Price produced Jim Jenson Muppet toys and puppets during 1979-1983. Fisher-Price also produced a variety of other miscellaneous puppets over the years. Below is a list of the Fisher-Price Puppet & Muppet toys we know about (sorted by model #). Also see the following ID pages for list of puppets, muppets and accessories used in the sets listed below by model #.
Puppet ID
Muppet ID
Muppet Clothes ID
If you know of any toy that is missing from this list, please Email us.
Miscellaneous Puppets:
(Also See Miscellaneous Dolls, Figures & Stuffed Animals)
(Also See Woodsey Series finger puppet playsets)
#138 - "Jack-In-The-Box Puppet". 1970-1973. Puppet. More!
Jim Henson Muppets (The Muppet Show):
---
This Old Toy Fisher Price This Old Toy Fisher Price This Old Toy Fisher Price This Old Toy Fisher Price This Old Toy



This Old Toy Fisher Price This Old Toy Fisher Price This Old Toy Fisher Price This Old Toy Fisher Price This Old Toy
---

EMail us at info@thisoldtoy.com