Set with Box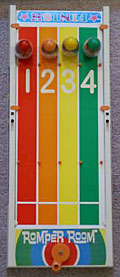 Description: Place the 4 Weeble racer figures on the race track starting line, turn the crank, and watch the Weebles Wobble down the race track. Racers have to watch out for obsticles and bend under the hurtle. The race has an attached "grandstand" with 2 rows of Weeble race fans in the "seats".
Accessories:
Variations: None.
Other Information:
Featured in 1979 Sears Christmas Wish Book (page 596).
Please, if you have any information or details about this toy that isn't mentioned above then e-mail us. Thanks!