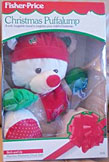 Larger Photo


Larger Photo
Description: This 1991 Christmas exclusive Puffalump bear has a red cap and red scarf. The scarf is marked "Christmas 1991". This Christmas bear is very hard to find.
Accessories:
FPT14908 - White Puffalump Christmas Teddy Bear that is featherlight and made of parachute-type material. Teddy wears a red "velvety" cap with a red ball on top and a embroidered candycane with a green bow on the side. Bear also wears a red "velvety" scarf with green fabric on the ends that have white polka-dots. The scarf is marked "Christmas 1991" with printed holly on the sides. Bear has green mittens, green inner ears with white polka-dots, and red pads on the bottom of his feet with white polka-dots. Bear has brown stitched eyes, a large red velvety nose, and a pink stitched mouth.
Variations: None.
Other Information:
Sold in a display box with a clear plastic display window on the front. Front top marked, "Christmas Puffalump" and front bottom right corner of box has a big red bow. Corner under bow is marked, "8128".
Please, if you have any information or details about this toy that isn't mentioned above then e-mail us. Thanks!