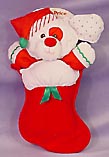 Larger Photo


Larger Photo
Description: This exclusive Christmas Puffalump Puppy is ready for bed dressed in red pajamas and a red Santa hat. Visions of sugar plums (and dog bones) dance in his head! Puppy was sold stuffed in a red velvet stocking.
Accessories:
FPT14856 - Christmas Puffalump Puppy wearing red pajamas and a red Santa hat. He has one long white ear with a green polka-dot inner ear (the other ear is tucked under his hat), brown stitched eyes with a red spot around one eye, a big red velvety nose, and a pink stitched mouth. Puppy has a green ribbon under his chin, white paws with green and white cuffs, and a green ball on the tip of his Santa hat.
FPT19041 - Red velvet Christmas stocking with white stuffed material across the top covered in white polka-dots. The stocking has 2 wide green satin ribbons on the front and a small red velvet loop on the top edge. The FPT14856 Christmas puppy fits inside the stocking. Mesures 9-1/2" tall, 6" wide.
Variations: None.
Other Information:
FP8126SET1991 - Mint on Card Set. WFL: 07-AF-11-0-C.
Please, if you have any information or details about this toy that isn't mentioned above then e-mail us. Thanks!