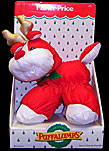 Larger Photo


Larger Photo
Description: In the Christmas season of 1992 Fisher-Price introduced the Puffalump Rudolph the Red-Nosed Reindeer. Rudolph is a stuffed Reindeer with a featherlight body that is made of parachute-type material. Rudolph is a safe and happy reindeer for children of all ages.
Accessories:
FPT17130 - Red featherlight stuffed reindeer made of parachute-type material. Reindeer has a white snout with a large red velvety nose, a white stripe on his forehead, small red ears with white inner ears, and white hooves. Reindeer has metallic gold antlers on top of his head, green ribbon and a gold "knot" under his chin, a small red tail with white on the back, and brown stitched eyes. His toosh tag is marked "8081/8082" and "1992" for the year. Measures 10-1/2" tall, 8" long, 5" wide.
Variations: None.
Other Information:
Sold only during the 1992 Christmas season.
FP8081BOX1992 - (Box Only) - Sold in an open (non-enclosed) display box with green/red Christmas tree designs. Top right corner of back panel is marked, "8081". Bottom front of box is marked, "Christmas Puffalumps".
FP8081SETA1992 - (Complete Set) - Complete set (FPT17130 - Reindeer) in original open (non-enclosed) display box.
Also see the Fisher-Price exclusive Christmas ornament that features a Puffalump Reindeer.
Please, if you have any information or details about this toy that isn't mentioned above then e-mail us. Thanks!