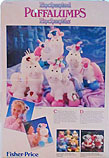 Larger Photo


Larger Photo


Larger Photo
Description: This Puffalump Pegasus can not be found on every Puffalump collector's shelf. It is much larger than most other Puffalumps, espically those made in the late 1980's. It's Puffalump trademark symbol is located on the hip opposed to the bottom of it's foot like most other Puffalumps. This Puffalump Pegasus was not sold in the US. We believe it was sold only in Canada.
Accessories:
FPT16391 - Large white Puffalump pegasus that is feather-light and made of parachute-type material. Pegasus has a pink mane and tail with green, pink, and white satin ribbons. Pegasus has brown stiched eyes, 2 pink stitched nostrils, and pink inner ears. She has metallic silver wings on her back with pink the other side sides. She has green hooves, and a wide green satin ribbon bow on the side of her front right leg. She has a pink and white embroidered Puffalump trademark symbol on her right hip, click here for a photo of the symbol. Measures about 18 inches tall.
Variations: None.
Other Information: None.
Please, if you have any information or details about this toy that isn't mentioned above then e-mail us. Thanks!