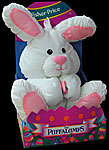 Larger Photo


Larger Photo
Description: This 1992 exclusive Easter Puffalump bunny is sure to hop its way into your heart. Bunny was sold in a bright colored easter egg shaped cardboard display box.
Accessories:
FPT14899 - Featherlight Puffalump bunny made of parachute-type material. Bunny is solid white with pink inner ears and pink pads on the bottom of his big feet. Bunny has white yarn "hair" on top of his head between his 2 long ears. He has brown stitched eyes, a pink velvety nose, and a pink stitched mouth. Bunny has a pink fabric flower sewn between his hands.
Variations:
Other Information:
Sold only during the 1992 Easter Season.
FPT45125 - (Box Only) - Sold in an open (non-enclosed) display box designed to resemble an Easter Egg. Top right corner of the back panel is marked, "8011".
FP8011SET1992 - (Complete Set) - Complete set in original display box.
Also sold in the #8011 Easter Collection.
Please, if you have any information or details about this toy that isn't mentioned above then e-mail us. Thanks!