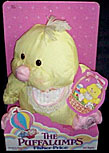 Larger Photo


Larger Photo
Description: This cute little Easter Puffalump duck is dressed in a fancy Easter Sunday bib. Available only during the 1987 Easter Season.
Accessories:
FPT14901 - Yellow feather-light Puffalump duck that is made of parachute-type material. Duck has white yarn "hair" on top of it's head, brown stitched eyes, and a small pink stuffed bill. Duck has yellow wings, pink feet, and an attached sewn-on bib. The center of the bib is white pleated with tiny pink "buttons" down the center. The bib has a pink and green embroidered flower in the center, a pink edge, and white lace on the outer edge of the bib.
Variations: None.
Other Information:
Sold only during the 1987 Easter Season.
Sold in an open (non-enclosed) display box with a pink back panel. Top left corner of panel is marked, "8011 Asst.". Bottom of box is marked, "©1986" and "8011 Easter Collection".
Also sold in the #8011 Easter Collection.
Please, if you have any information or details about this toy that isn't mentioned above then e-mail us. Thanks!