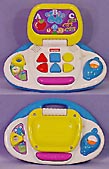 Larger Photo
Description: This is baby's first lap-top computer with a fold-down light up screen and six interactive buttons that identify 123's, ABC's, and objects. The computer plays tunes and computer sounds, has a yellow clicking cheese peek-a-boo slider on the side, and a carry-handle on the side for portability. Requires three AA-size batteries (included). Designed for children ages 6 to 36 months old.
Accessories:
FPT12778 - Blue base white top computer with a fold-down yellow screen, a pink space bar, and 6 keys (2 red, 2 blue, and 2 yellow). The computer has a blue mouse on the side with an orange and white rolling ball in the center. The other side of the computer has a yellow cheese-shaped slider with pictures under the slider of a mouse doing different activities. Measures 11" wide, 7" deep, 6-1/2" tall with screen up.
FPT19676 - Battery cover. WFL: 07-AJ-02-A-J.
Variations: None.
Other Information:
FPT12779 - Sold in a 11-1/4" long, 9-5/8" high, 6-1/8" deep "Try Me" box.
Please, if you have any information or details about this toy that isn't mentioned above then e-mail us. Thanks!