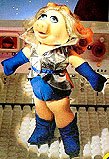 Larger Photo


Larger Photo
Description: Miss Piggy stars as first mate on a cosmic pig-sauser in The Muppet Shows, "Pigs In Space". This 4-piece outfit fits a #890 Miss Piggy Dress-Up Doll, so you can play Pigs in Space at home.
Accessories: Pigs in Space outfit
Variations: None.
Other Information:
Please, if you have any information or details about this toy that isn't mentioned above then e-mail us. Thanks!