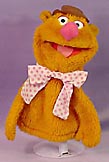 Larger Photo
Description: Straight from The Muppet Show, it's Fozzie the Bear! Fozzie Bear was never the most popular character on "The Muppet Show" as he always seemed to be on the receiving end of a rotton tomatoe or pie in the face for his bad jokes. Now you can bring him home and give him the love and tenderness that he deserves. The Fozzie Bear hand puppet not only looks like the real Fozzie Bear, but he is also lots of fun to play with!
Accessories:
FPT3328 - Fozzie Bear hand puppet with an orangish-brown fuzzy body and arms, a huge non-removable white tie with large pink polka-dots, a tiny non-removable brown hard plastic hat, and a big pink nose. He is about 10" tall with a hollow body and a puppet mouth that can be opened and closed.
Variations: None.
Other Information: None.
Please, if you have any information or details about this toy that isn't mentioned above then e-mail us. Thanks!