Larger Photo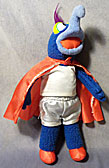 Larger Photo
Description: Who can resist this stuffed Gonzo doll? He looks just like the real Gonzo on The Muppet Show! He was sold with a removable "Gonzo The Great" costume. Both Gonzo and his costume are machine washable and dryer safe.
Accessories:
Variations: None.
Other Information:
FP858BOX1982 (Box ONLY) - Gonzo was sold in a 8-1/8" long, 17-3/4" high, 4-3/8" deep display box.
FP858SET1982 - Complete set in original display box. WFL: 07-AE-26-0-C.
Please, if you have any information or details about this toy that isn't mentioned above then e-mail us. Thanks!