Larger Photo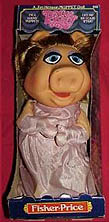 Larger Photo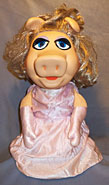 Larger Photo
Description: Anyone who is familiar with "The Muppet Show" needs no introduction to this self-absorbed, frog-loving pig with long blonde hair. She is designed as a combination doll and hand puppet.
Accessories:
FPT3325 - Miss Piggy - Miss Piggy hand puppet with a flesh-colored vinyl head and long blonde brushable hair. She has a foam-backed fabric body that allows her to stand up or to be used as a puppet. She has stuffed arms with purple gloves up to her elbows and wears a purple evening gown.
Variations: None.
Other Information:
FP855SET1979 - Complete set still in original display box. WFL: 07-AH-41-1-B
Please, if you have any information or details about this toy that isn't mentioned above then e-mail us. Thanks!