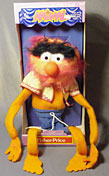 Larger Photo


Larger Photo
Description: Anyone who ever watched "The Muppet Show" knows and loves Animal, the wild and hairy drummer who doesn't speak very well, but does know how to steal your heart. Fisher-Price introduced Animal to you as a Muppet hand puppet.
Accessories:
FPT3324 - Animal - Orange Animal hand puppet with a round head covered with pink "fur" (often missing or thinned), has a big red nose, big white plastic eyes with thick bushy black eyebrows. A hole behind his mane allows children to move his big mouth and wiggle his big, bushy eyebrows. Animals has a yellow nylon open vest with metallic pink rickrack trim and decor. He has Velcro® brand fasteners on his hands, so he can hug you or stay in silly poses. His blue knee-length pants have a white rope belt/tie. The vest and belt are attached to the body and cannot be removed.
Variations: None.
Other Information:
FP854BOX1978 - (Box ONLY) - Animal was sold in a 24" high x 7" wide x 5-1/2" deep open front display box.
FP854SET1978 - (Complete Set) - Complete set in original display box. WFL: 07-AH-41-2-B
Please, if you have any information or details about this toy that isn't mentioned above then e-mail us. Thanks!