Larger Photo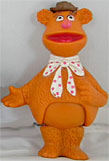 Larger Photo
Description: Straight from TVs "The Muppet Show" to your home, it's Fozzie Bear! This small hard plastic puppet figure comes with an accessory puppet stick that fits into a hole in the puppet's back. When attached to the puppet stick, children can make the puppet move around on their own stage.
Accessories:
FPT2523 - Fozzie Bear - Small orange hard plastic Fozzie Bear figure with a hole in his back to insert a removable puppet stick to move him. He has a white tie with pink polka-dots, a small brown hat, and he is jointed at the waist. Measures about 4 inches tall.
FPT22072 - White plastic puppet stick.
Variations: None.
Other Information:
Please, if you have any information or details about this toy that isn't mentioned above then e-mail us. Thanks!