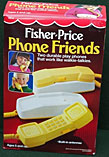 Larger Photo


Larger Photo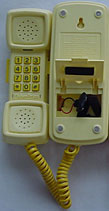 Larger Photo


Larger Photo
Description: Children love to play on the telephone, and this set of telephones allows them to really talk to each other on the phone without wires and cords to trip on. The phones are battery operated "walkie-talkies" disguised as yellow and white kitchen phones. The base is white and the receiver is yellow with yellow single tone push-button dials, just like a real phone! Each phone has a yellow On/Off switch on the side and an attached battery door. Designed for children ages 5 years and older.
Accessories:
2 each - FPT22007 - Yellow/white telephones (receiver attached to base via yellow coiled telephone cord). Requires a 9-volt battery (not included).
Variations: None.
Other Information:
This set was sold in a 8-5/16" long, 13" high, 3-1/2" deep display box.
This set came with a one year limited warrenty.
Please, if you have any information or details about this toy that isn't mentioned above then e-mail us. Thanks!