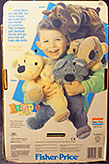 Larger Photo
Description: This is an assortment of individually packaged Rumple Bears that were sold to retail stores for resale. Rumple Bears are soft stuffed teddy bears with big smiling happy faces, large brown noses, and "Fisher-Price" stitched in red on the bottom of their left foot. Machine washable, dryer safe. Designed for children of all ages.
Accessories:
Variations: None.
Other Information:
Each bear sold in this assortment was sold in a 8-1/4" long, 13" high, 9" deep open display box.
The model number changed to #76810 in 1996.
Please, if you have any information or details about this toy that isn't mentioned above then e-mail us. Thanks!