Larger Photo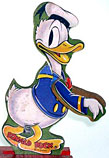 Larger Photo
Description: The Donald Duck Cart was sold only during the Easter season in 1938. The hard-to-find toy features Donald Duck with flapping arms that rocks forward and back when the toy is pulled. The roomy cart behind Donald is large enough to hold Easter eggs, candy, and/or small toys.
Accessories:
FPT19455 - Red rectangler wooden platform that rolls on 4 yellow wooden wheels. The top of the platform has a wooden cut-out Donald Duck figure on the front and a 4-sided red wooden cart on the back. Donald has paper lithographs on the sides of a short-bill Donald Duck wearing a blue sailor shirt with yellow trim and a red tie and white sailor cap with black trim. Donald has seperate movable wooden arms with paper lithographs on the sides of blue sleeves with yellow trim and white hands. Donald flaps his arms and rocks forward and back when pulled. This toy is marked W.D. Ent.
Variations: None.
Other Information: None.
Please, if you have any information or details about this toy that isn't mentioned above then e-mail us. Thanks!