Larger Photo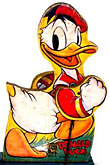 Larger Photo
Description: Donald Duck "walks" in front of a cart swinging his arms proudly and making a loud "quack-quack" noise as the toy is pulled.
Accessories:
FPT4278 - Aqua rectangular wooden cart with 4 red wooden wheels, an aqua 4-sided wooden cart on the back, and a wooden Donald Duck cut-out on the front. The cut-out has a paper lithograph on both sides of a short billed Donald Duck wearing a red and black sailor's cap and a red sailor's shirt with yellow trim and a blue bow tie. Donald makes a "quack-quack" noise and has seperate movable arms that swing as the toy is pulled. Marked "W.D.P." Measures 10-1/2" long, 8-1/2" high, and 4" wide.
Variations: None.
Other Information:
Copyright Walt Disney Productions.
Suggested retail price in 1948 was .69¢.
Also see 1937 & 1951-1953's #500 Donald Duck Cart.
Please, if you have any information or details about this toy that isn't mentioned above then e-mail us. Thanks!