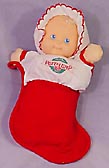 Larger Photo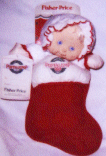 Larger Photo
Description: In the 1991 Christmas season, Fisher-Price introduced this adorable exclusive Puffalump Kids doll dressed in white Christmas pajamas. The doll was sold with a red velvety Christmas stocking marked "1991 Puffalump Kids". The doll fits into the stocking.
Accessories:
FPT14903 - Exclusive Puffalump Kids Christmas doll dressed in white Christmas pajamas. She has a feather-light stuffed body made of parachute-type material. She has a soft plastic face with blue printed eyes, and she has a bit of blonde hair on her forehead peeping from under her bonnet. Her white bonnet is permenantly attached. It has a ruffled white bill with red stitching on the outter edge. Her permanently attached pajamas have red ruffles around the sleeves, red and green decor on the chest, and red ribbon "bows" on her feet and under her chin.
FPT19622 - Red velvet Christmas stocking with white stuffed material across the top. The white material has a green printed wreath and the words "Puffalump Kids" in red.
Variations: None.
Other Information:
Please, if you have any information or details about this toy that isn't mentioned above then e-mail us. Thanks!