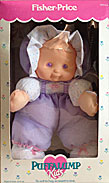 Larger Photo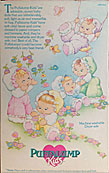 Larger Photo


Larger Photo
Description: Heidi-Lavender is a soft body Puffalump Kids doll with a soft vinyl face. She wears a permanently attached light purple (lavender) romper and a matching bonnet. She has white ruffles around her face with tiny multi-colored polka-dots, and white arms, chest, and feet with tiny multi-colored polka-dots. She has pink pads on the bottom of her feet and ruffles on top of her feet with pink trim on the edges and a pink ribbon in the center. She has a bit of blonde curly hair on her forehead peeping from under her bonnet, and she has lavender eyes. Designed for children ages 6 months and older.
Accessories:
FPT10236 - Light purple doll with blonde hair, described above.
Variations: None.
Other Information:
FPT10237 - (Box Only) Sold in a 8" long, 13-1/2" high, 5" deep display box with a clear plastic display window on the front. Top right corner is marked, "4090 asst.". Marked, "Puffalump Kids" under the display window. Back of box has a cartoon drawing of 5 Puffalump Kids.
FP4094SET1991 - (Complete Set) Complete set in original display box.
Also sold in #4090 Puffalump Kids Assortment.
Please, if you have any information or details about this toy that isn't mentioned above then e-mail us. Thanks!