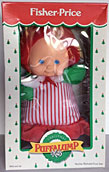 Larger Photo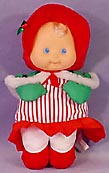 Larger Photo
Description: In the 1992 Christmas season, Fisher-Price introduced this adorable exclusive Puffalump Kids doll dressed as a Christmas caroler.
Accessories:
FPT14877 - Exclusive Puffalump Kids Christmas doll dressed as a Christmas caroler. She has a feather-light stuffed body made of parachute-type material. She has a soft plastic face with blue printed eyes, and she has a bit of blonde hair on her forehead peeping from under her bonnet. Her red bonnet is permenantly attached. It has a large red bill with green and red Christmas holly on the tip of one side. She also wears a permanently attached red and white striped dress with red ruffle across the bottom, a green silky shoulder coat with white fluffy trim, and matching green gloves. She has white legs with red fabric "shoes" on her feet.
Variations: None.
Other Information:
Sold only during the 1992 Christmas season.
FP4089BOX1992 - Sold in a rectangular box with a clear window display on the front. The box is decorated in red and green, marked "4089" in top right corner and marked "Christmas Puffalump Kids" under the window display.
FP4089SET1992 - Complete set in original display box. WFL: 07-AE-26-5-B
Please, if you have any information or details about this toy that isn't mentioned above then e-mail us. Thanks!