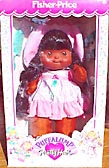 Larger Photo
Description: This African-American Pretty-Hair Puffalump doll has a silky fabric body, a soft vinyl face, and long, silky brushable hair. She was sold with a removable dress, a comb, and two barrettes for doll or child. Machine washable. Designed for children ages 2 years and older.
Accessories:
Variations: None.
Other Information:
FPT10701 - (Box Only) Sold in a 10" long, 17" high, 5" deep window box with a clear plastic window on the front. Front bottom (under display window) is marked, "Puffalump Pretty Hair".
FP4054SET1993 - (Complete Set) Complete set in original display box.
Also sold in #4050 Pretty-Hair Puffalump Assortment.
Also see #4051 Pink doll, as she was sold with the same accessories that this doll was sold with.
Please, if you have any information or details about this toy that isn't mentioned above then e-mail us. Thanks!