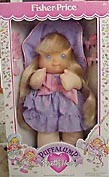 Larger Photo


Larger Photo
*missing hair bows
Description: This is a Pretty-Hair Puffalump doll that has a silky fabric body, a soft vinyl face, and long, silky brushable hair. She was sold with a removable dress, a comb, and two barrettes for doll or child. Machine washable. Designed for children ages 2 years and older.
Accessories:
Variations: None.
Other Information:
FPT10707 - (Box Only) Sold in a 10" long, 17" high, 5" deep window box with a clear plastic window on the front. Front bottom (under display window) is marked, "Puffalump Pretty Hair".
FP4052SET1993 - (Complete Set) Complete set in original display box.
Also sold in #4050 Pretty-Hair Puffalump Assortment.
Please, if you have any information or details about this toy that isn't mentioned above then e-mail us. Thanks!