Larger Photo


Larger Photo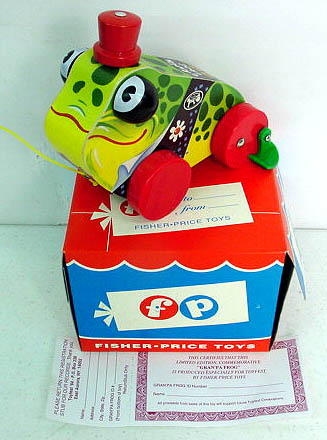 Larger Photo
Description: The #450 Jolly Jumper was the very first frog pull toy that Fisher-Price ever made. In 1956, the frog was given more personality and was introduced as the #464 Gran'pa Frog. Just like the #450 Jolly Jumper, Gran'Pa Frog rolls along in a hopping motion while his back legs flip-flop around, his big googly eyes roll, and he makes a "croak-croak" sound.
Accessories: >
FPT4218 - Wooden cut-out frog with paper lithographs on the sides and edges of a green frog with dark green spots on his back and wearing a black vest with blue designs and a white flower on the side. The frog a round red wooden top hat and two round black wooden eyes with white painted iris on each eye. The frog rolls on 4 red wooden wheels. The back two wheels have green plastic rear legs attached that flip-flop around when the frog is pulled. He also makes a "croak-croak" noise and his googly eyes roll around when pulled. Measures 5-3/4" long, 4" wide, and 5-1/4" high.
Variations: None.
Other Information:
Please, if you have any information or details about this toy that isn't mentioned above then e-mail us. Thanks!