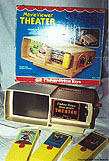 Larger Photo


Larger Photo


Larger Photo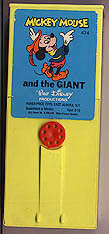 Description: This is a theater that allows Movie Viewer cartridges to be viewed two ways, either on the small screen or projected on the wall (a switch turns mirror to choose between the two). A hand crank on the side allows you to control the action, fast action, slow motion or even backwards. The theater requires the use of a lightbulb (6 volt), part number PR20 (flashlight bulb), but no batteries! It is powered by 110 volt AC transformer. Designed for children ages 4 years and older.
Accessories:
FPT8326 - Large tan plastic movie viewer theater with a "TV screen" on the front with a tape slot on the front right and a red crank handle on the side. Rotating mirrors allows child to project the image into the TV screen or onto a wall. Measures 12" wide, 9-3/4" deep, 6" tall.
FPT2154 - Yellow rectangular plastic movie viewer cartridge with a red drive wheel and a blue paper lithograph with a picture of Mickey Mouse dressed like Jack in Jack in the Bean Stalk on the cover. *Note: This cartridge was sold individually as #474 Mickey Mouse and the Giant Movie Viewer Cartridge.
Variations: None.
Other Information:
FP463BOX1977 (Box ONLY) - Sold in a 13-1/2" long, 11-7/8" high, 6-3/8" deep box. WFL: 07-AF-27-6-B
FP463SET1977 - Complete set in original box. WFL: BW
TOT112 - Aftermarket AC-to-AC POWER SUPPLY. This brand new power supply requires minor installation (wire cutting, stripping, and crimping) and comes with illustrated installation instructions.
Please, if you have any information or details about this toy that isn't mentioned above then e-mail us. Thanks!