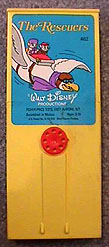 Larger Photo
Description: This is a plastic movie cartridge that fits inside of a movie viewers, such as #460. The film features Walt Disney's "The Rescuers".
Accessories:
FPT2153 - Yellow rectangular plastic movie viewer cartridge with a red drive wheel and a blue paper lithograph with a picture of the 2 mouse Rescuers riding in their bird "airplane". Measures 6-5/16" long, 2-5/8" wide and 7/8" deep.

*FPT8010 - Mint on card. WFL: 07-AI-02-G-R
Variations: None.
Other Information: None.
Please, if you have any information or details about this toy that isn't mentioned above then e-mail us. Thanks!