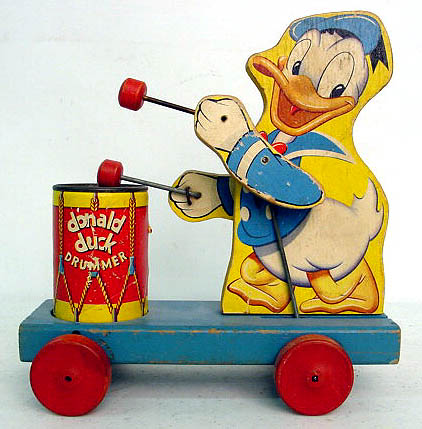 Larger Photo


Larger Photo


Larger Photo
Description: Donald Duck doesn't miss a beat on his big red drum. Give the toy a tug and Donald will swing his arms alternately to strike the drum with his mallots.
Accessories:
FPT4207 - Blue rectangular wooden platform with a round cylinder on the front and a Donald Duck cut-out on the back. The drum has a round metal top and red paper lithographs on the sides with yellow trim and "donald duck DRUMMER" in white. The Donald Duck cut-out has a paper lithograph on the sides of Donald Duck wearing a blue sailor's cap with black trim and a blue sailor's shirt with white trim and a red bow tie. Donald has seperate wooden movable arms with paper lithographs on both sides of blue sleeves and white hands with an attached mallot on the end of each arm. When the toy is pulled, Donald alternately swings his arms to strike the drum. The platform rolls on 4 red wooden wheels. Measures 8" high, 7-1/2" long, and 3-3/4" wide.
Variations: None.
Other Information:
Copyright Walt Disney Productions.
Patent No. 2,089,885.
The following poem can be found in one of Fisher-Price's mini-catalogues reguarding the #454 Donald Duck Drummer and #485 Mickey Mouse Choo-Choo:

Donald Duck is the drummer boy
Who fills the air with sounds of joy
As Mickey Mouse steers his choo-choo train
Ringing the bell with might and main.
Please, if you have any information or details about this toy that isn't mentioned above then e-mail us. Thanks!