Larger Photo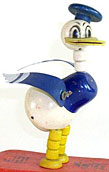 Larger Photo
Description: Among the very first 16 toys made by Fisher-Price in 1931 were the ever popular Pop-Up Kritters (Patented October 5, 1926-No. 1,601,983) that are made of bead and string construction allowing the Kritter to spring to life when the strings are pulled tightly, squirm and sway around as the strings are loosened, and laying flat when the strings are loosened all the way. Pop-Up Kritters are mounted on a paddle and the control strings have metal loops on the end to allow easy maneuvering. Five years after the first Pop-Up Kritters were released, a new Kritter was added to the line in the form of Disney's Pluto (1936-1948 #440 Pluto Pop-Up). The only other Disney Pop-Up Kritter manufactured by Fisher-Price was 1938-1939's #425 Donald Duck Pop-Up.
Accessories:
FPT4189 - Donald Duck figure that is made of beads with a string through middles that pops up when string is pulled, and goes limp when released. Beaded Donald stands on a red wooden guitar-shaped paddle.
Variations: None.
Other Information: None.
Please, if you have any information or details about this toy that isn't mentioned above then e-mail us. Thanks!