Larger Photo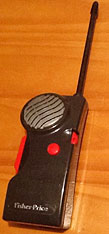 Larger Photo
Description: This is a set of 2 sleek black walkie-talkies with silver speaker areas and red buttons. These walkie-talkies have a morse code button, a decorder panel, and a black flexable antenna. Each walkie-talkie required one 9-volt battery (not included). Designed for children ages 5 years and older.
Accessories:
2 each - FPT10845 - Black walkie talkie, described above.
Variations: None.
Other Information:
Please, if you have any information or details about this toy that isn't mentioned above then e-mail us. Thanks!