Larger Photo


Larger Photo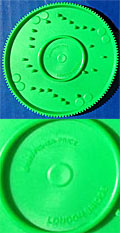 Larger Photo
Description: This brightly colored trumpet allows children to play lively music, plus they can also insert one of the three accessory disk records to play a pre-programmed song on the trumpet. A red crank on the side activates the music. Designed for children ages 2 to 6 years old.
Accessories:
FPT20385 - White plastic trumpet with a yellow mouthpiece, a red horn on the end, and 3 color-coded buttons on top (green, blue, and a purple). One side of the trumpet has a yellow "pocket" that holds 3 accessory disk/records. The pocket has a red handle on the side. The other side of the trumpet has a round colorful paper lithograph with a blue musical note in the center and marked "Fisher-Price" in white across the bottom. The trumpet has a red crank handle on the side. Children can insert a record, turn the crank, and the trumpet will play the song that is on the record.
3 thick plastic disk records with a raised circle outline in the center, raised "note imprints" on the sides, and deep groved "gear" teeth on the edges. Records measure 4" diameter x 1/4" thick. See "Variations" below for all possible variations. Titles on records below:

London Bridge
Marching In
Mary Had a Little Lamb
Variations: The records came in blue, green, dark pink (fusha), red, and yellow. A complete set should had 3 different colored records with different titles:
London Bridge:
Marching In:
Mary Had a Little Lamb:
Other Information:
Sold in a 14-1/2" long, 10-1/2" high, 6-1/8" deep display box.
Please, if you have any information or details about this toy that isn't mentioned above then e-mail us. Thanks!