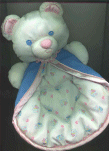 Description: In 1980 Fisher-Price introduced the #404 Security Bunny Blanket Assortment, which was a soft blanket with an attached bunny head that doubles as a finger puppet. The #404 assortment was discontinued in 1984, but in 1985 a similar idea was applied to the Fisher-Price Teddy Beddy Bear® line. The #1404 Security Bear is a blanket with a Teddy Beddy Bear® bear head that doubles as a finger puppet. The #1404 was discontinued in 1987, but the #1353 Security Bunny was introduced in 1987 to take it's place. The #1353 Security Bunny is just like the bunny blankets sold in the #404 assortment, except the #1353 has bigger eyes and a multi-colored blanket. The #1353 was discontinued in 1990. Four years later the security blanket was introduced once again, this time with a Puffalump Bear head. Unfortunately, the Security Bear Puffalump was discontinued shortly after production, putting an end to the Fisher-Price Security Blanket line. Machine washable and dryer safe. Designed for children ages birth to 36 months old.
Accessories:
FPT10872 - Security Bear Puffalump with a white stuffed Puffalump bear's head and a blue blanket body. The inside of his blanket body is white with pink heart prints. The sides of the blanket have 2 small white stuffed arms. The bear's face is white with a pink velvety nose, blue embroidered eyes, a pink stitched mouth, and white ears with pink satin inner ears. The edges of the blanket have pink satin trim.
Variations: None.
Other Information:
FP1386BOX1994 - (Box Only) Sold in a 9" long, 13" high, 2-1/2" deep window color gift box.
FP1386SET1994 - (Complete Set) Complete set in original display box.
This Bear is very rare and was discontinued shortly after production.
Also see 1980-1984's #404 Security Bunnies.
Also see 1985-1987's #1404 Security Bear.
Also see 1987-1990's #1353 Security Bunny.
Please, if you have any information or details about this toy that isn't mentioned above then e-mail us. Thanks!