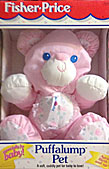 Larger Photo


Larger Photo
Description: The Puffalump Pets Bear is a featherlight stuffed bear made of soft fabric with a hidden surprise rattle inside. Bear is so light that small babies can pick it up and so soft that it is gentle on baby's skin. Machine washable, dryer safe. Designed for children ages birth to 24 months old.
Accessories:
FPT11356 - Pink soft stuffed fabric Puffalumps bear with a built-in rattle inside. The bear has a white snout with a pink fuzzy nose, blue stitched eyes, a pink stitched mouth, white hands, white inner ears, white pads on the bottom of his feet, and a white bib on his chest with soft lacy ruffles around the edges. His inner ears, bib, and bottom of his feet are covered with soft pink and blue heart designs. Teddy bear also has a white ribbon under his chin with a pink heart and "Puffalump" in blue print.
Variations:
The model number for this was changed to #71216 in 1996.
Other Information:
FPT12681 - (Box ONLY) Sold in a 7-1/4" long, 12-3/4" high, 4" deep window color gift box. Top right corner of box is marked #1213 or #71213, bottom marked, "Puffalump Pet".
FP1216SET1995 - (Complete Set) Complete set in original box.
Also sold in #1213 Puffalump Pets Assortment.
Also see #1214 Blue Bear for the same bear in blue opposed to pink.
Please, if you have any information or details about this toy that isn't mentioned above then e-mail us. Thanks!