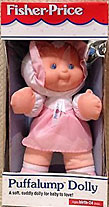 Larger Photo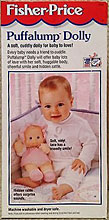 Larger Photo
Description: The Puffalump Dolly is a perfect "first doll" for babies. Dolly is featherlight, made of soft material, has a sweet smiling plastic face, and has a hidden rattle for an added surprise. Dolly is machine washable and dryer safe. Designed for children ages birth to 24 months old.
Accessories:
FPT11350 - Puffalump Dolly - Small soft cuddly stuffed baby doll with a smiling vinyl face and an attached bonnet on her head. There is a hidden rattle inside for surprise sounds. Dolly wears a permanently attached pink dress with white sleeves, pink "shoes" with white socks, and a white bonnet with pink ruffles around the face and a bit of blonde hair on her forehead. She has a white ribbon under her neck with a pink heart and "Fisher-Price" marked in blue.
Variations:
The model number changed to #71212 in 1996.
Other Information:
FP1212BOX1995 - (Box Only) Sold in a 6-1/4" long, 12-3/4" high, 3-1/2" deep window color gift box.
FP1212SET1995 - (Complete Set) Complete Set in Original gift box.
Please, if you have any information or details about this toy that isn't mentioned above then e-mail us. Thanks!