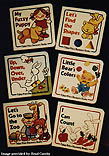 Larger Photo
Description: This is a small, square book that is designed for babies and toddlers. Designed for children ages 6 to 30 months old.
Accessories:
FPT5147 - Small hardback book titled "Up, Down, Over, Under". The book has hard card-type pages, and the cover has a light blue background with a picture of a rabbit rolling down a grassy hill.
Variations: None.
Other Information:
Please, if you have any information or details about this toy that isn't mentioned above then e-mail us. Thanks!