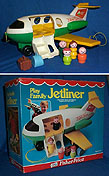 Larger Photo
Description: After the #183 Play Family Fun Jet had run its course, Fisher-Price revamped the design and came up with this version in yellow and green instead of red and blue. The cockpit and wooden pilot were removed in lieu of a sleek, tinted windshield and the luggage changed from yellow and green to blue and brown. The parental figures got the biggest overhaul of all. A new dark green man and yellow mom with a brown hair were introduced specifically for this set.

In 1986, Fisher-Price introduced the #2360 Little People Jetliner. The #2360 comes with the same shaped airplane, yet colored differently, the same luggage pieces, and a family of 4 with plastic molded hair.
Accessories: Please remember that the following accessories are the accessories that are pictured in the Fisher-Price catalogues. These should be used as guidelines only, as other variations may exist:
FPT579 - A white top, green bottom airplane with yellow wings, green engines, and a tinted plastic windshield covering the cockpit. The body has a fold-down door with steps on the inside leading up to 4 seats inside. The plane has room for luggage behind the passenger seats. The plane is pulled with a yellow plastic pull string that is attached to the nose of the plane.
Luggage:
4 Figures - All figures have a Plastic Body and a Plastic Head:
Variations:
Other Information:
Please, if you have any information or details about this toy that isn't mentioned above then e-mail us. Thanks!