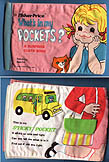 Larger Photo


Larger Photo
Description: "What's In My Pockets" is a 10 page cloth book with pockets on several of the page. Each pocket has a different closure, such as a zipper, a snap button, etc. The set includes 8 plastic coins that fit into the pockets. The coins have pictures on them of typical objects that can be found in a girl's pocket. Each page contains a verse that challenges children to guess what is in the pocket. Designed for children ages 2 to 5 years old.
Accessories:
FPT1777 - Pink 10 page fabric book with a picture on the cover of a girl and a cat. The book has pockets on many of the pages. Each pocket has a different closure. The book is made of high grade, soft, durable cotton that is colorfast and washable.
8 coin-shaped plastic disks with a lithograph picture on one side and "FP" heat-stamped on the other side. The disks fit into the pockets in the FPT1777 book. These disks are very hard to find;
Variations: None.
Other Information:
Please, if you have any information or details about this toy that isn't mentioned above then e-mail us. Thanks!