Larger Photo


Larger Photo


Larger Photo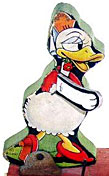 Larger Photo
Description: Donald and Donna Duck are in a festive Mexican spirit dressed in holiday Mexican attire and ready to cha-cha! When the "stage" is pulled by the pull cord, Donald moves his arms and pounds a tune on his 5-note xylophone while Donna dances to the music!
Accessories:
FPT4072 - Red rectangular wooden "stage" that rolls on 4 yellow wooden wheels and has a yellow wooden xylophone (5 metal keys) in the center. One end has a wooden cut out with paper lithographs on two sides of Donald Duck wearing a big yellow Mexican hat, blue Mexican vest, and a red belt tie. He has 2 separate movable arms that hold mallets and hit the xylophone keys. The other end of the stage has a wooden cut out with paper lithographs on the sides of Donna Duck wearing red high heal shoes, a red Mexican veil, and a red vest. Donna moves forward and back as her 2 separate arms move up and down while the toy is pulled. Measures 14" long, 10" high, 5-3/8" wide.
Variations: None.
Other Information:
1937 retail price was $1.00.
This is the very first Fisher-Price toy that featured Donna Duck.
Please, if you have any information or details about this toy that isn't mentioned above then e-mail us. Thanks!