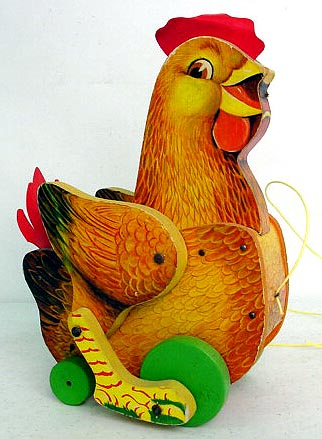 Larger Photo
Description: This is a red wooden chicken with legs and wings that move up and down as Hen makes a "cluck-cluck-squawk" sound when pulled.
Accessories:
FPT1734 - Wooden cut out chicken with colorful paper lithography attached to the sides of a chicken with red and black feathers, brown eyes, and a yellow beak. Hen has a red plastic tail and crown feathers and she rolls on 4 green wooden wheels. Her "feet" are attached to the 2 front wheels and when she rolls, her feet, which are also attached to her wings, make her wings flat. Feet and wings are wooden cut outs with paper lithography attached that match the body feather color. Measures 8-1/2" long, 10" high, and 5" wide.
Variations: None.
Other Information:
Please, if you have any information or details about this toy that isn't mentioned above then e-mail us. Thanks!