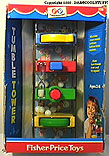 Larger Photo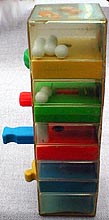 Larger Photo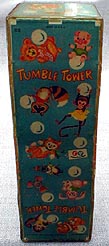 Larger Photo
Description: The Tumble Tower is an interesting game. It is a clear plastic box with 5 separated compartments and 10 white marbles trapped inside. The object of the game is to start with all of the marbles in the top compartment, then work all of them them through the 4 levels using different controls, such as spinning, turning, push-pull, etc. until they reach the bottom compartment. A built-in 3-minuite sand timer on the side adds to the challenge.
Accessories:
FPT1723 - Tall clear plastic rectangular box with 5 seperate compartments and 4 different colored divider "walls" (yellow with a green dial, green with a red knob, red with a blue pull knob, and blue with a yellow knob). The game has 10 white marbles trapped inside and a built-in sand timer on the side. Measures 10-1/2" high, 3-3/8" wide, 4" deep. WFL: 07-AF-25-3-B
Variations: None.
Other Information:
Please, if you have any information or details about this toy that isn't mentioned above then e-mail us. Thanks!